About ULTRA SURE
ULTRA SURE is a pet accident cover program for Ultra Dog and Cat Food customers. Our shoppers are covered through the continuous purchase of Ultra Dog and Cat Food. 
ULTRA SURE helps to reduce the financial burden of medical treatment if your pet is injured as a result of a sudden, unforeseen or unintended event.
It's all about knowing that if you are an active ULTRA SURE member and your furry friend is injured in an accident that you can relax knowing that ULTRA SURE will ease the financial burden of these stressful occurrences. Compliant ULTRA SURE members can submit a claim and ULTRA SURE will reimburse a portion of the final vet bill. 
We reward our pet parents with peace of mind.
It's completely FREE to the pet parent.

Should your pet hurt themselves in an accident, ULTRA SURE will reimburse you a portion of your veterinary bill.

You can then rather focus your full attention on getting your furry friends back to their playful best.
We have a tiered offering as follows:
ULTRA DOG
If you buy any product from the Optiwoof range, you will be entitled to claim back R4000 for any valid accident claim.

If you buy any product from the Superwoof range, you will be entitled to claim back R5000 for any valid accident claim.

If you buy any product from the Premium Recipe Or Special Diet range, you will be entitled to claim back R6000 for any valid accident claim.
ULTRA CAT
If you buy any product from the Optimal Balance range, you will be entitled to claim back R4000 for any valid accident claim.

If you buy any product from the Special Diet range, you will be entitled to claim back R6000 for any valid accident claim.

Please note:
should you change foods within our range at any time there will be a mandatory 30 x day waiting period from once your purchase is logged.

As per normal insurance practice, there is an excess amount ( R200 ) that will be subtracted off the figures mentioned above.

ULTRA SURE will pay up to the maximum limit of R10 000 for each household claiming under the policy in any consecutive 12 month period.



Is there an ULTRA SURE app?
Our new ULTRA SURE app is available from our website for download. Please note, our Progressive Web Application APP works best with all modern browsers like Google Chrome for Android and Safari for APPLE ( also Edge & Firefox ). It does not support legacy browsers like Internet Explorer 11.
For iPhone users:
Go to your ULTRA SURE dashboard.

Once in the dashboard, tap on the share icon on the bottom toolbar of your browser

A menu will appear, scroll down and click 'Add to Homescreen'

The ULTRA SURE icon will then be saved to your phone's desktop
For Android users:
Go to your ULTRA SURE dashboard.

A pop up will appear asking if you want to add ULTRA SURE to your home screen

Click on this pop up

Add to Home Screen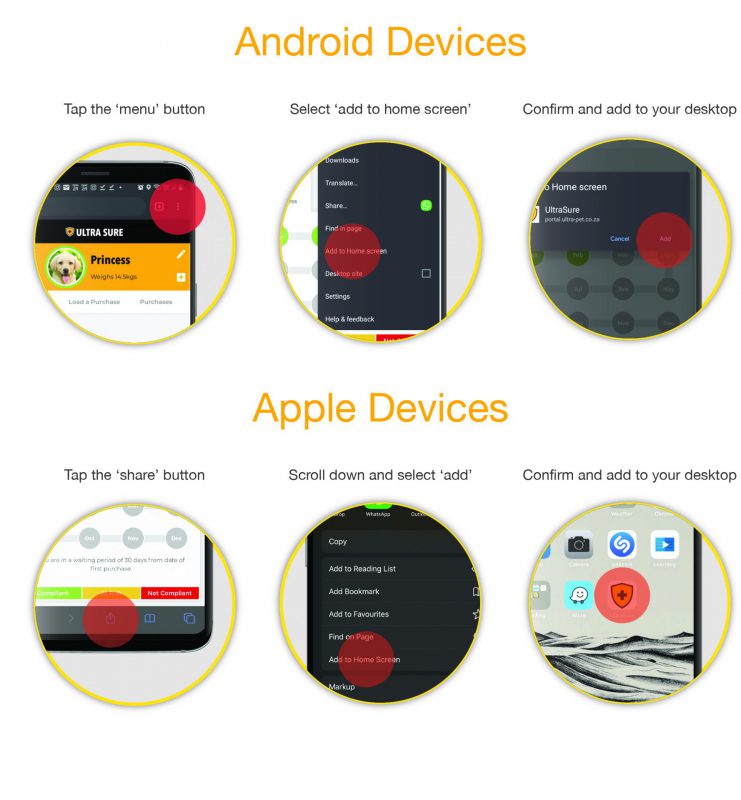 Our new APP is a Progressive Web APP. A Progressive Web App is a web app that uses modern web capabilities to deliver an app-like experience to users. It basically means that we now control the ULTRA SURE APP in-house and don't rely on any mobile store to host our application. We therefore control any updates that need to be made to the APP which can then be sent to you very quickly. So it's a much better, safer, faster and convenient way to manage an APP.
How does ULTRA SURE work?
To be a member of the program you have to register your and your pet's details on our website/app and keep logging your monthly purchases to keep your benefit. You do not immediately gain benefits through just purchasing our products. 
To become an ULTRA SURE member and enjoy our cover you must follow these easy steps: 
Download the new app or access our website at

www.ultra-pet.co.za/ultrasure

.

Register your details.

Register your pet's details.

Upload your monthly Ultra Dog / Cat food purchases

Ensure your Pets have the right amount of food. They should have enough food to last them for a month or more – to remain covered.

Keep capturing your monthly Ultra Dog / Cat food purchases on the app/website and continue checking to see if you and your furry friend are compliant.
Once you have purchased your Ultra Dog/ Cat food, you have 7 days to log in and register your purchase on the app/website.
The waiting period is 30 days from when you have registered your first purchase on the app/website. Once you then upload your next purchase, your pet's compliancy will be indicated.
This is a system requirement that is used to verify your purchase. It is an important part of the process and should you make a claim, your till slips and purchase history will be checked to determine compliance.
To remain on the ULTRA SURE program and to be eligible for the free pet accident cover, you have to make sure that you have purchased enough food to feed your pet for a full month. 
For example, a 3kg bag of Ultra Dog is not going to feed a 50kg Rottweiler for a full month – if this is what you are purchasing and capturing in the app – your dog will NOT be compliant.
However, if in the above example you are instead purchasing a 20kg bag of Ultra Dog to feed the Rottweiler, this is enough food to feed the dog for a month, and your Rotti should be covered and compliant for the preceding month/30 day period.
On your dashboard you can check your compliance in the calendar as follows:
Red:

Your Pet is not ULTRA SURE compliant and you need to start the Ultra Dog/Cat food journey again to get back on the ULTRA SURE program. You will then need to buy Ultra Dog/Cat food and capture your purchase once more. You will, unfortunately, fall into the waiting period again.

Orange:

You are in an 'At Risk' period . This means the following: 

You have not bought enough food to feed your pet for a month

or

You are running low & need to go out and buy more ULTRA DOG / CAT Food ( don't worry, we'll send an email to remind you ) and get yourself back in the green compliant colour. Unfortunately, if you don't top up within a 7-day period you will slip back into the red colour on a month.

Green:

Your pet has sufficient Ultra Dog/Cat food and is compliant for that month.

Grey:

You are in your 30 x day waiting period. 
Yes, our system works out that you still have enough food to feed your pet but you are just needing to top up again to remain covered going forward. Orange is a reminder to top up on your ULTRA DOG / CAT Food.
Unfortunately, if your month is in red at the time of the accident, then your pet will not be covered for any pet accident-related claim through ULTRA SURE. You must keep your pet in the green at all times.
By buying the correct amount of ULTRA DOG / CAT food to feed your pet for a month (this can also include multiple purchases of smaller pack sizes).

By registering your purchases correctly on the app/website.
We believe that our food is so good and contains all the nutrition that your pet needs that no additional food is required. However, we are aware that feeding your pet additional 'human food' happens from time to time. We would love it if you would just tick this option upon registration and we will make note of this on your user profile should a claim arise in the future.
Working dogs are excluded from our program due to the intense nature of their work. These include, but are not limited to:
Police/Military dogs

Guard dogs

Gun/hunting dogs

Dog Sport ( IPO, Agility etc )
Please note that you must settle the full Vet invoice directly with your Vet and if you have a valid claim, ULTRA SURE will reimburse you the applicable portion directly.
Your vet should be aware of the ULTRA SURE program and its benefits to you and your pet. The vets only involvement is to:
assist you with a report and to fill in & sign a part of the claim form. This report will have information on the type of accident that occurred and the injuries that this accident resulted in.

give you an invoice.
Both of these documents need to be submitted with your claim form. ( see the section below entitled 'What documents do I need to make a claim?' for the full list of documents )
What am I actually covered for?
ULTRA SURE is NOT a pet medical aid insurance policy. It is for pet ACCIDENT cover only.
Please have a read through the question 'How is an accident defined in the policy?'  below for more details on exactly what is covered in our ULTRA SURE ACCIDENT policy.
The ULTRA SURE policy covers accidental injuries sustained by domestic dogs and cats only where the accident is a direct consequence of the following:
Motor vehicle accident

Burns or electrocution

The actions of another animal

Swallowing a foreign object requiring surgical or endoscopic removal

Snake bite

Allergic reaction to an insect bite other than tick or flea bites
Or otherwise, an accident resulting in:
A bone fracture

A traumatic ligament or tendon injury, or lacerations, abrasions or wounds
If you have more than one policy in place that covers the same insured event, the full amount of the claim will be split between the different policies. 

The cover you have under each policy will determine how we split the claim amount. You may not claim under your other policy for any amount that we have paid you under this policy.

If you have other accident cover policies and wish to make an accident claim with ULTRA SURE, you are required to inform us of this situation.
How to Claim
You need to download a claim form from https://ultra-pet.co.za/ultrasure/ and email it through to claims@petsure.co.za or go to the menu bar on the app, select 'Make a claim' and follow the instructions.
You can also contact the Hollard Pet & Equine call centre on 0860 738 787.
A completed claim form

Any pathology, radiology or consult report that was completed

Proof of payment that was made to the vet ie. credit card slip, EFT confirmation etc

A detailed vet invoice.

Claims must be submitted and received within 60 (sixty) x days of the incurred veterinary treatment
Other
RCL FOODS is the biggest pet food manufacturer in South Africa and is the owner of the ULTRA DOG / CAT brand as well as the ULTRA SURE platform. The ULTRA SURE program is administered by the Hollard Insurance Company. We have worked together to deliver the ULTRA SURE product to the veterinary channel.